This is something I have wanted to do for so long and I am excited to have you along with me for this journey. I will never claim to be an expert, in fact, I like to say I am always learning! Through my site and our adventures, I want to share with you the many things I learn so we can all learn together. I have designed and maintained several websites over the years but it's not something I trained for, I am completely self-taught. I have spent many hours learning things….often the hard way, and I know I have lots to share to keep you from going through my same struggles.
In the past, I have hosted a Joomla website on GoDaddy.com but have been really unhappy with the ease of use and the lack of updates for Joomla hosted on GoDaddy. I stuck with it and kept trying because I kept thinking that it would get easier if I didn't give up. As I read and enjoyed other people's blogs I found that most of them were using WordPress and that it really shouldn't be as hard as I was finding it. That got me looking again for a solution!
I wanted to pass along to you some of the things I have learned in my journey already about building a blog. If you follow the links in this post, you can also start yours for very little investment. That's one of the most awesome things about blogging! The links will also provide you with some of the best prices on the market for both company's I recommend, so there's no time like the present to get started!
Option #1 – Cloud Access

I ha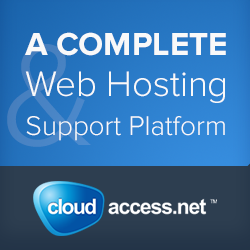 ve read a lot about WordPress and how easy it was to use and boy was I amazed when I found CloudAccess and the tutorials they had for building a site! When I designed and built my first site using Joomla, I had no idea what I was doing! I read a lot and found sites I liked and just tried to reproduce the look and feel they created. I call it reverse engineering! That's no longer necessary with what's available on Google and YouTube. You can find a tutorial on anything these days! That being said, one of my goals for developing my next site or redesigning my old sites was to make them more user-friendly and something I could teach someone else to use. CloudAccess turned out to be an answer to my prayers. They have it all!
Option #2 – Blue Host

Bluehost is also an extremely popular company that many bloggers work with. This was my second choice when I started doing my research. When it came down to it for me, I had to pick one and Cloud Access fit my requirements, but Blue Host would be an equally good option for anyone. Here are some of the reasons, bloggers like Bluehost


There are many reasons you may want to choose CloudAccess or Bluehost for your WordPress blog. These reasons include:
They are both easy to use. Yes, ANYONE can create a WordPress blog easily. CloudAccess or Bluehost both have easy to follow tutorials.
CloudAccess or Bluehost web hosting offers technical support.
CloudAccess or Bluehost are extremely affordable and they offer cheap web hosting. You can have a blog of your own and the only real expense you need to pay is the cheap blog hosting which starts at just $5.95 per month.
WordPress through CloudAccess or Bluehost is FREE.
CloudAccess or Bluehost offers a guarantee in case you determine that it is not for you.
You will be self-hosted. If you want to monetize your blog, then you will want to be self-hosted.
You will appear much more professional to readers, companies, and so on if you are self-hosted on CloudAccess or Bluehost than being on Blogspot.
3 of My Must Haves for Building a Blog

Free Trial

This is one of the main things I love about CloudAccess hosting! Many websites and products that offer free trials usually give you a limited time, like 7 days, to try their services. I can never seem to get things accomplished in their allotted time because life seems to take over and I get distracted and the next thing you know, my free trial period is up. CloudAccess is completely different. They offer you a 30-day Free trial that can be renewed indefinitely with just a few clicks after logging into the site. This allows you to take as much time as you need to build your site before you have to pay for something!
Unique .Com Name

If you are reading this, I assume you are probably interested in starting a blog yourself. One of the steps you must take before you actually build your site is to decide on a name for your blog and secure your domain. That may sound complicated and you might think it's expensive or difficult to do, well that could not be further from the truth. With CloudAccess or Bluehost, it's actually very simple and cost effective. Depending on the domain name and when I have bought it, I have paid anywhere from Free – $9.99 for a whole year to purchase my domain name.
The harder part of the process is to decide on a name that is unique, suits your business and personality, and is available as a .com. People will probably debate this issue with me but the fact remains that most people search for a business with their name and .com after it. You might start this process out as just something to do to keep your friends and family up on what is happening in your life, but then in a short time you may change your mind and want to put it out to the world. No matter where your mindset is when you start, think of this step as a critical business decision.
Take time to find a name that is unique to your blog subject or your goal. Your blog name should be easy to remember, easy to spell and unique and different in your field. Naming a blog is very much like naming a boat or a pet. The name should reflect you and the blog but not confuse your readers. For example, a favorite blog of mine is Bumfuzzle. Pat and Allie bought a boat and spent many hours mulling over a name before finding the term "bumfuzzle" in a dictionary. It met all the requirements and today there is still only one Bumfuzzle. In the scuba industry this is one of my pet peeves with dive shops, nearly all of them have one or more of the following words in their name; blue, water, blue water, adventure and/or paradise. I work in the industry and I can never seem to remember the names of many of the shops I do business with because they are all so similar. So make sure your name is something unique, stands out to your readers and is easy to remember.
Video Tutorials

I did not realize how important this was until I tried CloudAccess. They have step by step instructions on their site but the videos are even more of a help. I set my iPad next to my laptop and could follow along with each step to get my blog set up. It also saved me tons of time search YouTube for videos that may or may not help me.


Keep watching for future posts as I share things I learn about blogging and websites!



Please follow and like us: